Brueghel. Flemish art
start: 29/01/2013 end: 02/06/2013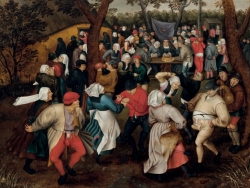 Fino al 2 giugno 2013 le meraviglie dell'arte fiamminga in mostra al Chiostro del Bramante.

La prima grande esposizione mai realizzata a Roma dedicata alla celeberrima stirpe di artisti.

Un'occasione unica per ammirare i capolavori di un'intera dinastia di eccezionale talento, attiva tra il XVI e il XVII secolo, e ripercorrerne la storia, lungo un orizzonte temporale, familiare e pittorico di oltre 150 anni.

La famiglia Brueghel è una dinastia fiamminga di artisti sviluppatasi tra il XVI e il XVII secolo.

Con oltre 100 opere, l'esposizione offre al pubblico la possibilità di vedere da vicino meravigliosi dipinti, presentati in modo organico e completo nella suggestiva cornice capitolina, provenienti da importanti musei nazionali e internazionali, e da un elevato numero di prestigiose collezioni private, nella cui  estremamente frammentaria dislocazione nel mondo sta l'eccezionalità di questa mostra, che è riuscita a raccogliere e mettere insieme capolavori altrimenti difficilmente accessibili, alcuni dei quali finora mai esposti al pubblico.
back to the Events
---
• Associated gallery •
Information Request
Special Offers
Events Calendar
See our calendar and discover our events !
---
• What our guests say •