Lezioni di storia
start: 25/01/2013 end: 05/05/2013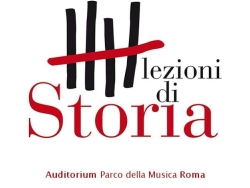 Dal 2 dicembre tornano gli appuntamenti con la storia all'Auditorium Parco della Musica; per la VII edizione il tema scelto è: "Stranieri tra Noi".
I nove incontri, che si terranno dal 2 dicembre 2012 al 5 maggio 2013 affronteranno episodi significativi della nostra storia analizzando gli effetti che gli stranieri hanno avuto sulle nostre città e la nostra civiltà contribuendo a ad arricchire la nostra storia e a costruire la nostra identità.
Gli incontri previsti, Sala Sinopoli ore 11.00:
24/02/2013
Franco Cardini Firenze 1613
10/03/2013
Luigi Mascilli Migliorini Milano 1796
14/04/2013
Anna Foa Roma 1907
05/05/2013
Emilio Gentile Roma 1944
back to the Events
---
• Associated gallery •
Information Request
Special Offers
Events Calendar
See our calendar and discover our events !
---
• What our guests say •